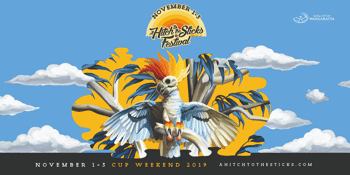 A Hitch To The Sticks 2019
Tex Perkins & His Fat Rubber Band, Magic Dirt, Stonefield, Ella Hooper, Dallas Crane, Bachelor Girl, The Songs Of Captain Matchbox, Dallas Frasca, Hat Fitz & Cara, Cookin' On 3 Burners, Raleigh Williams, Davidson Brothers, Alan Fletcher (Dr Karl - Neighbours), Barry Morgan, Taj Farrant, Glitter B. Club, Lee Rosser, Emilee South, Minnie Marks, Jo Jo Smith, Liv Cartledge & Much More TBA .................................................................................................. 🔸 Try our VIP Bus Experience (18yrs +) 🔸
Wangaratta Area (Wangaratta, VIC)
Fri 1 - Sun 3 November 2019 9:00 am


"Not so much a ticket, but a portal to the greatest weekend of my life!"– Punter
#HITCH3 cometh!
FRIDAY 1 – SUNDAY 3 NOVEMBER 2019!
The world-first of its kind festival A Hitch To The Sticks returns in 2019, bringing Tex Perkins & His Fat Rubber Band, Magic Dirt, Stonefield, Ella Hooper, Dallas Crane and more to stages across the Wangaratta region.

Bachelor Girl, Cookin' On 3 Burners, Davidson Brothers, Emilee South and much more will also lend their considerable talents to the third iteration of the regional festival on November1-3 (Melbourne Cup Weekend).

A Hitch To The Sticks was born when Wangaratta-bred Australian rock legend/co-festival director Dallas Frasca joined forces with her business partner in crime Renee Delahunty. The pair's mission? To bring city and regional punters together for a celebration of live music that embraces regional history, local artists and produce, indigenous culture and unique event spaces while utilising Wangaratta's spectacular country landscape as its backdrop.

A Hitch To The Sticks captured the imagination of the Australian music industry when it launched the out of the box concept of offering 50 lucky punters a once in a lifetime experience to travel from Melbourne's CBD, three hours North-East on a three-day musical bus safari, to discover the hidden gems of the Wangaratta region. AHTTS provides an action-packed weekend with 9 events, 6 VIP events exclusive to the bus ticket holders. With Dallas as your host, VIP passengers will have exclusive access to secret locations, celebrity hitchhikers, singalongs and maybe even the adventure of your life. 50% of the Bus tickets to the 2019 Hitch To The Sticks Festival have sold so you best get in quick to secure "Not so much a ticket, but a portal to the greatest weekend of my life!" - Punter

For those unable to get on the bus don't despair A Hitch To The Sticks has three public events over the weekend, that will have a little something for everyone. You can attend all three for a discounted price by snapping up a weekend pass!

FRIDAY - NOV 1st 2019 - MOYHU HOTEL LINE UP
ELLA HOOPER
DAVIDSON BROTHERS
TAJ FARRANT (10yr old guitar prodigy)
LEE ROSSER

SATURDAY - NOV 2nd 2019 - RODEO GROUNDS LINE UP
TEX PERKINS & THE FAT RUBBER BAND
MAGIC DIRT
STONEFIELD
DALLAS FRASCA
HAT FITZ & CARA
THE SONGS OF CAPTAIN MATCHBOX
NORTH EAST HITCHERS WINNER
REGIONAL HITCHERS SECOND STAGE
& more TBA

SUNDAY - NOV 3rd 2019 - MALT SHED, WANGARATTA LINE UP
DALLAS CRANE
BACHELOR GIRL (acoustic set)
COOKIN' ON 3 BURNERS FEAT. RALEIGH WILLIAMS
EMILEE SOUTH BAND
MINNIE MARKS

VIP BUS EXPERIENCE ONLY
ALAN FLETCHER (DR KARL - NEIGHBOURS)
GLITTER BITCH CLUB
BARRY MORGAN
LIV CARTLEDGE
JO JO SMITH
& more TBA
AHTTS ran two enormously successful events across North East Victoria in 2018 with music lovers treated to exclusive performances by renowned Australian and international headliners including, but not limited to, Whitfield Crane (Ugly Kid Joe), Kate Ceberano, Jebediah, Killing Heidi and Tim Rogers (You Am I). The March incarnation of A Hitch To The Sticks attracted a staggering 4,600 music fans to events, injecting over $392,000 into the local economy.

As part of A Hitch To The Sticks' ongoing commitment to reinvigorating the North East Victorian live music scene, The Rodeo Grounds (behind the Showgrounds) will be activated as a brand new live music location for the region and will be host to one of the three, huge family-friendly events that's set to take place over the Melbourne Cup weekend as a part of the program.

With much more to be revealed, Frasca says: "Renee and I knew how special The Rodeo Grounds were as soon as we entered the gates - surrounded by big trees, and green grass, hugged by the mighty Ovens River and the Bulawah Trail to lead you there - we knew it was the perfect place to host one of the biggest live music events Wangaratta has ever seen! We believe the community will love and embrace this space as their own, and we and are so pumped to reveal the incredible line-up we have curated. We can guarantee that there's something in it for everyone."

ahitchtothesticks.com
And while we'd love to tell you everything that's in store for the VIP bus ticket holders, we simply can't out of respect for the tradition of the road: what happens on tour, stays on tour.
A Hitch To The Sticks 2019
20+ acts, 3 public events, 6 secret events, 3 days, 1 bus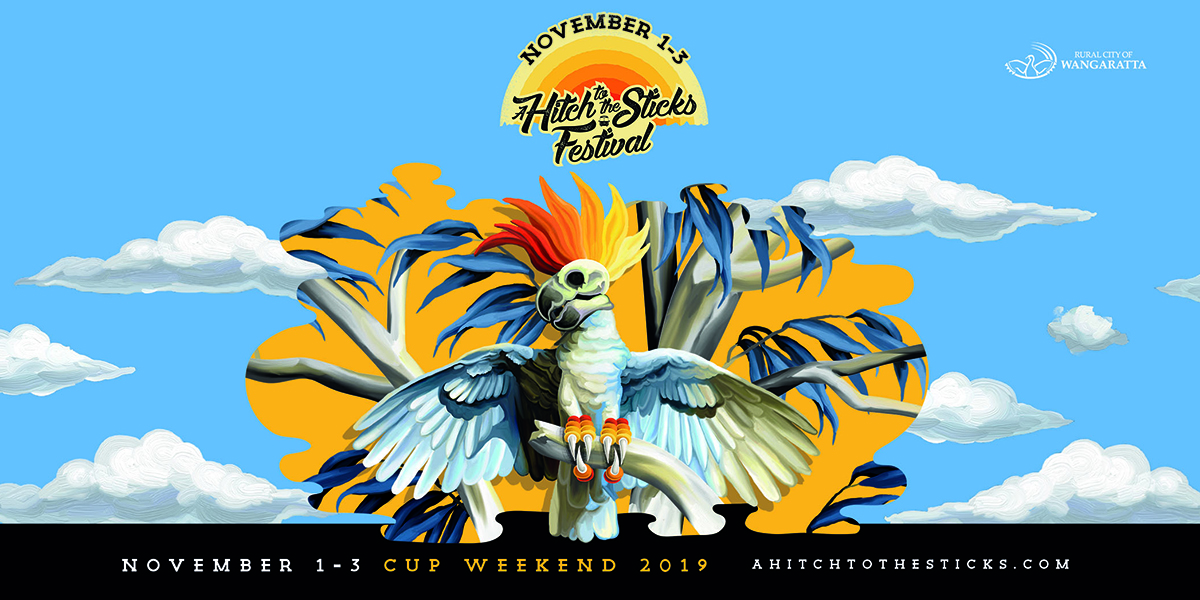 General Admission Terms & Conditions
Bus Ticket Terms & Conditions